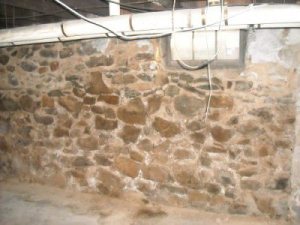 Basement Waterproofing Affordable Mason offers a full service basement waterproofing service.
We can repair and waterproof stone, brick and block walls and foundations.
Basement Waterproofing
Stone, Brick, Block Waterproofing
Floor Crack Repair & Sealing
Basement Stucco
Basement Parging
Floor Crack Repair
Wall Crack Repair
Stone Pointing and Brick Pointing
Wall and Floor Waterproof Paint
If you can see feel or smell that your basement is damp it likely that your walls or floor is not waterproofed and moisture will seep through.   Too much moisture will result in mold and mildew is bad for your health.
For over 20 years, the Affordable Mason has been repairing basements from the ravages of moisture, mold and mildew.  The northeast is notorious for wet damp seasons and as a result ground water can seep into the walls and floors our basements.  We have a vast experience making basements watertight and moisture free.  Often times the repairs are easy and there are very good moisture barrier materials that can solve your problems inexpensively.  We can repair any basement crack, basement leak, wall leak or wet damp walls.  Give us a call for a free estimate.
Mike McNamara
Affordable Mason
(856) 558-8735 – Burlington & Camden Counties
(610) 809-8197 – Delaware & Montgomery Counties
We do basement waterproofing and repairs in these areas: